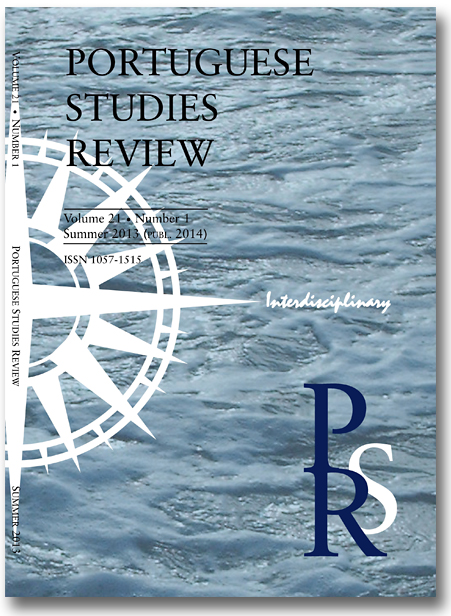 Publishing Program, 2019
For our past and future volumes, please visit our Forthcoming and Recent webpages. A new monographic series of Edited Volumes has now been created (see announcement below -- the initial volumes include, among other, Rivers and Shores: 'Fluviality' and the Occupation of Colonial Amazonia, edited and curated by Rafael Chambouleyron and Luís Costa e Sousa. An edited volume of reflections centered on Ceuta and Northern Morocco, 1415-2015, is also coming out. Titles are being added to the already established PSR Monographs series, including Paul Christopher Manuel's new book, The Captains of April Speak: Revisiting the Portuguese Revolution of 25 April 1974 -- Interviews and Insights, with interview texts in parallel Portuguese and English versions. The roster of publications in progress includes new core translations into English of selected classic Portuguese sources of enduring cultural and research significance (in particular a new critical English translation of the Esmeraldo de Situ Orbis and the first ever English translation of the Manuscrito de Valentim Fernandes, involving a rigorous comparison between the published Portuguese and other versions and the original of the Manuscrito de Valentim Fernandes preserved in the Bayerische Staatsbibliothek (Munich)). The Valentim Fernandes project will release in stacked increments, (a) a full digital text of the transcription, newly derived from the manuscript and formatted to reflect the original accurately, (b) a full span of geospatially aware place name concordances (an analytical key), and (c) a digital atlas. The atlas is making good progress, as are the detailed and copious analytical notes to the translation. More about our profle... >>




New Publishing Line, Started December 2017

.


A new line of Edited Volumes has been approved and phased in Baywolf Press and the Lusophone Studies Association, during our October 2017 conference at Trent University. The move is designed to relieve scheduling pressures created by a high rate of submissions to the journal and by the simultaneous rise in the number of volumes for which publishing slots are being reserved by participating editors and/or conference organizers. The Edited Volumes series accommodates multiauthor works and collections of papers that cannot realistically be added as out-of-series extras to the standard two annual issues and that also clearly do not fit the PSR Monographs series. Items in the Edited Volumes series are assigned a regular ISBN number (from our reserved block), are produced as monographs, and are distributed in the same manner as monographs.


Seule Phenix d'honneur, qui les ames resveille (April 1163 - Easter 2019) ...

Voicy le mois d'Avril, où nasquit la merveille,
Qui fait en terre foy de la beauté des cieux,
Le mirouer de vertu, le Soleil de mes yeux,
Seule Phenix d'honneur, qui les ames resveille ...
(Pierre de Ronsard, Sonnet 37 )

... phoenix, redivivo suae carnis humore reparabilis,
cum mortua fuerit, reviviscit. ... de favilis suis
et cineribus reviviscat.
(Ambrose of Milan, De excessu fratris sui Satyri, Liber Secundus, 59)



The LSA at Évora:


The Association's 2019 Conference

The Lusophone World: Global and Local Communities, 25-29 June 2019, Universidade de Évora, Portugal

Following on the heels of a very successful 2017 meeting in Aracaju, Brazil, the Lusophone Studies Association (LSA) is pleased to announce that its next conference will take place in the historic city of Évora, Portugal, a UNESCO World Heritage Site. This event will be held at the Universidade de Évora during 25-29 June, 2019. Organized jointly with the School of Social Sciences and the Research Center in Political Science (FCT network), its theme is The Lusophone World: Global and Local Communities. As such, it will welcome individual papers, thematic panels and roundtables on topics as diverse as: diasporas, education, the elderly, feminism, film, history, law, literature, migration, militarism, teaching Portuguese as a maternal and as a second language, race, religion, struggles for liberation and for democracy, and the youth. Further details will be made available in the near future.

Seguindo o êxito da sua reunião de 2017 em Aracaju, Brasil, a Associação de Estudos Lusófonos (AEL) tem o prazer de anunciar que a sua próxima conferência terá lugar em Portugal, na histórica cidade de Évora, Patrimônio da Humanidade da UNESCO. A conferência decorrerá na Universidade de Évora entre o 25 e 29 de Junho de 2019. Organizada conjuntamente com a Escola de Ciências Sociais (ECS) e o Centro de Investigação em Ciência Política (CICP-FCT), seu tema é O Mundo Lusófono: Comunidades Globais e Locais. Como tal, a conferência receberá trabalhos individuais, painéis temáticos e mesas redondas sobre temas tão diversos como: diásporas, educação, idosos, feminismo, cinema, história, direito, literatura, migração, militarismo, o ensino do português como língua materna e segunda, raça, religião, lutas pela libertação e pela democracia e juventude. Mais detalhes serão disponibilizados num futuro próximo.

Suite au succès de sa réunion de 2017 à Aracaju au Brésil, l'Association des études lusophones (AEL) a le plaisir d'annoncer que sa prochaine conférence aura lieu dans la ville historique d'Évora, Portugal, site de patrimoine mondial de l'UNESCO. La conférence se tiendra à l'Universidade de Évora entre le 25 et 29 juin, 2019. Organisé conjointement avec l'École de Sciences Sociales et le Centre de Recherche en Sciences Politiques (réseau FCT), son thème est Le Monde Lusophone: Communautés Globales et Locales. A ce titre, la conférence recevra des travaux individuels, panels thématiques, et tables rondes sur des sujets aussi divers que: les diasporas, l'éducation, les personnes âgées, le féminisme, le cinéma, l'histoire, le droit, la littérature, la migration, le militarisme, l'enseignement du portugais comme langue maternelle et seconde, race, religion, luttes de libération et pour la démocratie, et la jeunesse. Plus de détails seront disponibles dans un avenir proche.

José C. Curto, President - Lusophone Studies Association
Helder A. Fonseca, Universidade de Évora (ECS & CICP)

Deadline for Proposals | Prazo de envio de propostas | Date limite de soumission des propositions

The deadline for submitting individual paper and thematic panel/roundtable proposals was January 11 , 2019. Please visit our websites for information on conference fees, accommodation, and other details.

O prazo de envio de propostas, tanto de comunicações individuais como de painéis/mesas redondas temáticas:11 de janeiro de 2019. Favor de visitar nossos sites para obter informações sobre taxas de conferência, acomodações, e outros detalhes.

La date limite de soumission des propositions de communications individuelles et des panels ou tables rondes thématiques fut le 11 janvier 2019. Prière de visiter nos sites Web pour plus d'informations sur les frais de conférence, l'hébergement, et d'autres détails.





LSA Conferences Chronicle (Past Events)





Lusophone Studies Association Conference, 2017 − The Lusophone World in Motion: Past, Present and Future / Conferência da Associação de Estudos Lusófonos, 2017 − O Mundo Lusófono em Movimento: Passado, Presente e Futuro


June 28 to July 02, 2017 / 28 de junho a 2 de julho de 2017, held at the Aracaju del Mar Hotel, Aracaju, Brazil (Av Santos Dumont 1500 Praia de Atalaia 49035730) (conference concluded, selected papers to be published as thematic blocks in the PSR, after peer review).

The 2017 LSA program of workshops, sessions, and meetings ranged from sober and critical looks at Lusotropicalism to explorations of the Atlantic slave trade, constructions of identity and 'otherness', the uses/usages of the Portuguese language, studies of age and aging, youth and culture, racism(s) and racialization, institutional aspects of inclusivity and prosperity, women's studies, political culture and the culture of politics, familial networks, decolonization, postcolonial dynamics, colonial imaginaries, social and technological development, immigration and emigration, labour history, faith and organized religion and syncretic beliefs, as well as economic history, the history of Sephardi trans-Atlantic diasporas, demographic history, and other research topics. The chronological timespan of the themes stretched from the later middle ages to the twenty-first century. The conference was sponsored by FAPITEC/SE, Universidade Federal de Sergipe, the Harriet Tubman Institute, Liverpool University Press, Baywolf Press, Journal of Romance Studies, the PSR, and Susanne Bach (Books from Brazil and Luso-Africa).



26-27 October 2017, Lady Eaton College, Trent University, Peterborough, Ontario

.


A conference sponsored by the Trent University History Department, the Lusophone Studies Association, Portuguese Studies Review, and Baywolf Press. Supported by the Malcolm Doak Fund, the Dean of Arts and Science – Humanities (Trent University), the School of Canadian Studies, the History M.A. Program (Trent University), the Department of English Literature (Trent University), the Frost Centre for Canadian and Indigenous Studies, Cultural Studies, Lady Eaton College (Trent University), Traill College (Trent University). Keynote address by Prof. António Costa Pinto (University of Lisbon).

The conference presented a historical retrospective of the Portuguese Studies Review and its publishing precursors, and a retrospective of the Lusophone Studies Association and its role as part of the Canadian cultural and scholarly scene. The conference featured presentations by members of the Editorial Board of the PSR, highlighted selected aspects of their research, and honoured the founding editor emeritus of the PSR, Prof. Douglas L. Wheeler. The Editorial Board segment of the conference included a keynote address of by Prof. António Costa Pinto. The working sessions presented papers on a variety of themes, ranging from Portuguese literature to immigration, emigration, the politics of diversity, didactics, diasporic memory, creative writing, global social media, masculinity/femininity, perceptions of the 'other', second-language learning and teaching, peer tutoring in ethnic contexts, the uses and abuses of cultural heritage, and historiographic mythologies. The presenting scholars and session chairs were drawn from Trent University, York University, the University of Lisbon, Mount Saint Vincent University, University of Toronto, University of Western Ontario, University of Guelph-Humber, Minot State University, the Universidade dos Açores, University of Maryland, Ryerson University, the Camões Instituto da Cooperação e da Língua and the Research Centre on Didactics and Technology in the Education of Trainers – CIDTFF. For the conference program and related information, please follow this link >>.


Featured Book Fair Events


.


16ª Feira do Livro de Joinville 2019, junho 7 hora 8:00 am - junho 16 hora 5:00 pm


No Expocentro Edmundo Doubrawa e adjacências, Av. José Vieira, 315 - América, Joinville - SC, 89204-110, Brazil, +55 47 3422-5951


País homenageado: Portugal. Extensa programação cultural e artística. Como fio condutor: o tema "Aproximando corações". "É também uma satisfação ver que a língua portuguesa falada hoje por mais de 250 milhões de pessoas recebe essa homenagem neste importante evento literário e de grande repercussão em todo o país, e, no qual muitos autores novos e interessantes certamente serão levados ao conhecimento do público" (Cônsul de Portugal em Santa Catarina, André Lupi).

Mudam-se os tempos, mudam-se as vontades,
Muda-se o ser, muda-se a confiança:
Todo o mundo é composto de mudança,
Tomando sempre novas qualidades.
(Luís Vaz de Camões, Sonetos)

Weblink


Feria del Libro de Sevilla 2019 / Feira do Livro de Sevilha 2019
23 de mayo al 2 de junio 2019, Plaza Nueva, Sevilla
Contacte con: Gabinete de Comunicación Feria del Libro de Sevilla, Nuria Lupiáñez (669 17 57 50)/ Sara Arguijo (635 14 93 91)

La Feria celebra el V Centenario de la Primera Vuelta al Mundo, con Portugal como País Invitado -- "hermano en la aventura de la circunnavegación y de gran interés en lo literario". Bajo el lema Leyendo voy, viajando vengo, las actividades oficiales del Año Magallanes resaltan las relaciones histórico-sociales entre la literatura y los viajes, y la capacidad transformadora de los libros y de la lectura. La Feria contará con la presencia de destacados nombres de la literatura portuguesa.
Weblink

A Feira decorrerá de 23 de maio a 2 de junho, na Plaza Nueva, no centro de Sevilha. A participação de Portugal como País Convidado visa a promoção da literatura portuguesa no país vizinho. O Ministério dos Negócios Estrangeiros, através do Camões, Instituto da Cooperação e da Língua, apoiará a participação de autores portugueses na Feira. A Feira integra-se nas comemorações dos 500 anos da Primeira Circum-navegação do Globo Terrestre, e incluirá iniciativas relacionadas com a viagem iniciada em 1519, em Sevilha, por Fernão de Magalhães.
Weblink


19ª Bienal Internacional do Livro: Rio
30 de agosto a 08 de Setembro de 2019
Riocentro
Av. Salvador Allende, 6555
Barra da Tijuca
22780-160 – Rio de Janeiro – RJ

Uma festa da cultura, da literatura e da educação, nos 55 mil metros quadrados do Riocentro, Barra da Tijuca (bairro de Jacarepaguá, Zona Oeste do Rio). Acesso ao evento pelo Pavilhão das Artes (exposição permanente indoor de arte de rua). Café Literário, Arena Jovem, Fórum de Educação, e mais. Os ingressos podem ser adquiridos antecipadamente através da compra online, pelos pontos de venda ou nos dias de evento, diretamente nas bilheterias do Riocentro.
Weblink


Featured Exhibitions Chronicle (Current)
.
Sobre as Águas / On the Water


At the Museu Nacional de Arte Antiga, Lisbon, 26 February 2019 to 26 May 2019, Level 0/Mezanino Room. Curator: Alexandra Gomes Markl.

The exhibition presents to the public a selection of drawings that range from the 17th to the 19th century and engage the haunting theme of ships and boats and their shapes mirrored in water or struggling with the elements. The display is a tribute to mariners and naval architects and to those perennially fascinated by the oceans and by navigation.

.




8 Mulheres Artistas 8 Livros de Artista


At the Biblioteca Geral da Universidade de Évora, Évora, 8 March 2019 to 8 May 2019. Horário: 09h - 20h (segunda a sexta feira). Curator: Manuela Cristovão.

Presenting the works of Célia Bragança, Graciela Machado, Luísa Gallego, Matilde Gómez GM, Manuela Cristóvão, Sandra Leandro, Sónia Cabello, Yolanda Herranz.

"O Livro é o tema comum à exposição, e nesta unidade temática podemos descobrir formas de comunicação e expressão muito personalizada e diversificada, nas suas diferentes sensibilidades e formas. Cada um destes livros é uma obra artística em si, cada livro é um livro de artista ou sobre artistas ou a descoberta de vários mundos num único e especial mundo, a Biblioteca." Entrada gratuita.

Featured Exhibitions Chronicle (Past)

.





The Art of Power: Habsburg Women in the Renaissance / Kunst und Macht: Drei Frauen aus dem Hause Habsburg


At the Schloss Ambras, Innsbruck. Special Exhibition, 14th June to 7th October 2018. Was open daily from 10 AM to 5 PM. Please follow these links >> English << and >> German<< to the venue's information releases, in PDF format. The exhibition was curated by Dagmar Eichberger (Universität Heidelberg) and Annemarie Jordan Gschwend (CHAM – Centro de Humanidades, Lisbon ). Billingual richly illustrated catalogues are available.

The exhibition presented to the public c. 100 key objects from important European collections, including items from Ambras Castle and from the Kunsthistoriches Museum in Vienna. The exihibition focused on three remarkable Habsuburg women -- rulers and discerning collectors of art, curiosities, and precious objects: the Archduchess Margaret of Austria (1480-1530, Princess of Asturias and Duchess of Savoy, then Governor of the Habsburg Netherlands), Mary of Hungary (1505-1558, Queen Consort of Hungary and Bohemia, and later Governor of the Habsburg Netherlands), and Catherine of Austria (1507-1578, Queen of Portugal as wife of King João III and then Regent of Portugal during the minority of D. Sebastião I de Portugal).

| | | | |
| --- | --- | --- | --- |
| | | | |
| | | | |
| --- | --- | --- | --- |
| | | | |
| | | | |
| --- | --- | --- | --- |
| | | | |
A Cidade Global: Lisboa no Renascimento / The Global City: Lisbon in the Renaissance


The Museu Nacional da Arte Antiga, Lisbon, opened on 23 February 2017 the exhibition

"A Cidade Global: Lisboa no Renascimento / The Global City: Lisbon in the Renaissance

," curated by Annemarie Jordan Gschwend and Kate J. P. Lowe. The display ran from 24 February 2017 to 9 April 2017. Please follow this >> link << to the venue's original press release, in PDF format.

A voyage into the past, "The Global City: Lisbon in the Renaissance" was a museological venture offering a unique point of entry into the street-level atmosphere and material culture of a Lisbon that had been forever altered by the devastating earthquake of 1755 and thus no longer is experientially available as a coherent entitiy to any visitor. The portal through which the exhibit drew the viewer, on multiple levels, into the scenery of a pre-1755 global metropolis were the recently identified sixteenth-century vistas of the Rua Nova dos Mercadores (The New Street of the Merchants), purchased in 1866 by Dante Gabriel Rosetti, preserved at Kelmscott Manor and owned by the Society of Antiquaries of London. For additional information, follow this link >>. You can check out the story of the exhibit's making and get a limited retrospective in the video documentary linked here ... If you travel to Portugal, please reserve some time to visit the collections of the Museu Nacional da Arte Antiga, and then perhaps take time to amble through all the parts of Lisbon that were featured in various publications connected with the "Global City" exhibit -- immerse yourself in the atmosphere.

Featured Presses, Selected Publications

.





Verso da História


The PSR is delighted to continue promoting Pedro Manuel Cunha Lauret de Saldanha e Albuquerque's A Marinha de Guerra Portuguesa – do fim da II Guerra Mundial ao 25 de Abril de 1974 (2015; ISBN 9789898016225, 312 pp.). The section of Novidades at Verso da História also features Margarida Paredes' Combater Duas Vezes: Mulheres na Luta Armada em Angola (2015; ISBN 9789898016218, 504 pp.), and José Manuel Garcia's A Magnífica Torre de Belém (2014; ISBN 9789898657817, 152 pp.). Please visit the press website for other books published recently.




AR-PAB (Pedro Aguiar Branco)


Take advantage of current online postings and savour Hugo Miguel Crespo's À Mesa do Príncipe (Jantar e cear na Corte de Lisboa (1500-1700) / At the Prince's Table (Dining at the Lisbon Court (1500-1700) (Lisbon & Paris: AR-PAB, March 2018) . Other fine catalogues and publications are likewise currently available for download at the AR-PAB website, courtesy of the art and antiques dealers and specialists Pedro Bourbon de Aguiar-Branco (member of the Associação Portuguesa de Antiquários, the CINOA - Confédération Internationale des Négociants en Ouevres d'Art, and the S.N.A. [Syndicat National des Antiquaires - France]) and his associate Álvaro Roquette (AR-PAB gallery, Paris).




Paul Holberton Publishing


The Global City: On the Streets of Renaissance Lisbon, edited by Annemarie Jordan Gschwend and K. J. P. Lowe (Paul Holberton Publishing: London, 2015; ISBN 9781907372889; 240 pp.) draws us into the past sensory universe of a Lisbon pre-dating the sudden seismic shock of 1755. It does so from the starting point of two large-scale sixteenth-century vistas by an anonymous Flemish master that depict the Rua Nova dos Mercadores commercial and financial thoroughfare. Acquired in 1866 by Dante Gabriel Rossetti, the vistas contribute a unique spatio-temporal window into the past, at street level, bustling with the stark contradictions and contrasts of a global metropolis. The volume conjoins the two works of art with a wealth of data from newly found or suitably valorized archival documents, accompanied by a carefully selected display of little known or unpublished images of contemporary trade staples, curiosities, luxury and prestige items, naturalia, exotica, and other objects. A physical expression of the worldwide tangle of commerce, the Rua Nova as an architectural construct symbolically echoed the estuary of the river Tagus as a natural feature opening out to the Atlantic and to the oceans far beyond. The book Iets readers glimpse Lisbon and its material culture in all the vibrant cosmopolitanism characterizing this major trading hub of the Renaissance world, a hub whose essence and texture were to be forever altered by one of the planet's iconic natural cataclysms – an earthquake and a tsunami – on Saturday, 1 November 1755, the holiday of All Saints' Day. Please visit the PHP website for other recently published books.





PSR Monograph Series Vol. 3


Fernanda Olival, The Military Orders and the Portuguese Expansion (15th-17th Centuries) (Engl. trans. by James William Nelson Novoa and Martin Malcolm Elbl). ISBN 9780921437543. In stock.


Access and Distribution
Look for us at Gale/CENGAGE and EBSCOhost e-resource and database centers in your subscribing library (our abstracts will also be restreamed at ProQuest). Soon on JSTOR. Ask your library to subscribe. Or subscribe in person. Previews of the PSR are available through Google Books (program now discontinued, replaced by previews on our own sites).

BIBLID
National Library of Canada Cataloguing Record
Portuguese Studies Review
ISSN 1057-1515 print
Semiannual
v. : ill. : 23 cm
1. Portugal–Civilization–Periodicals. 2. Africa, Portuguese-speaking–Civilization–Periodicals. 3. Brazil–Civilization–Periodicals. 4. Portugal–Civlisation–Périodiques. 5. Afrique lusophone– Civilisation–Périodiques. 6. Brésil–Civilisation–Périodiques.
DP532 909/.0917/5691005 21

Library of Congress Cataloguing Record
Portuguese Studies Review
ISSN 1057-1515 print
Semiannual
v. : ill. : 23 cm
1. Portugal–Civilization–Periodicals. 2. Africa, Portuguese-speaking–Civilization–Periodicals. 3. Brazil–Civilization–Periodicals.
DP532 .P67 909/.091/5691 20 92-659516



In

dexing:

American History and Life, Historical Abstracts, International Political Science Abstracts, Political Science Complete, Social Services Abstracts, Sociological Abstracts, Worldwide Political Science Abstracts; EBSCOHost

.

Archive: Google Books (preview pr

ogram now terminated, replaced by a preview program on our own sites

);

GALE/Cengage Learning (Academic OneFile).