Portuguese Studies Review, Vol. 15, Nos. 1 and 2
New Series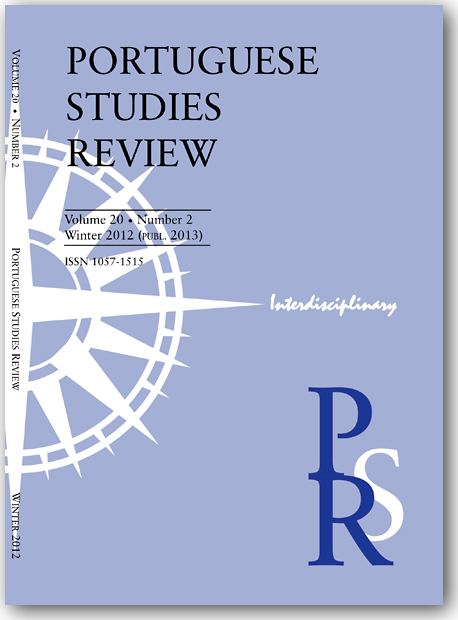 The Evolution of the Portuguese Atlantic: Special Thematic Volume in Honour of Ursula Lamb
Editor: Timothy Coates

Timothy Coates
"Introduction"

A. J. R. Russell Wood
"Settlement, Colonization, and Integration in the Portuguese-Influenced World, 1415-1570"

Ivana Elbl
"Group Identities in the Early Portuguese Overseas Expansion in Africa: Concepts and Expressions"

Alberto Vieira
"A emigração portuguesa nos Descobrimentos. Do litoral às ilhas"

Martin Malcolm Elbl
"(Re)claiming Walls: The Fortified Médina of Tangier under Portuguese Rule (1471-1661) and as a Modern Heritage Artefact"
Geraldo Lorenzino
"Linguistic, Historical, and Ethnographic Evidence on the Formation of the Angolares, a Maroon-Descendant Community in São Tomé (West Africa)"

César Braga-Pinto
"Time and Alterity in Vieira's History of the Future"
Geraldo Pieroni
"'Fui desterro para os culpados': A Inquisição portuguesa e os banidos no Brasil colonial"

Janaína Amado
"Mulheres que partem: As condenadas em Portugal ao degredo (1737-1800)"

Mark Cooper Emerson
"Maria de Jesus: A Seventeenth-Century Trans-Atlantic Visionary"

Ernst Pijning
"Regulating Illegal Trade: Foreign Vessels in Brazilian Harbors"
Kirsten Shultz
"The Transfer of the Portuguese Court to Brazil and Ideas of Empire"