Portuguese Studies Review, Vol. 22, No. 1
New Series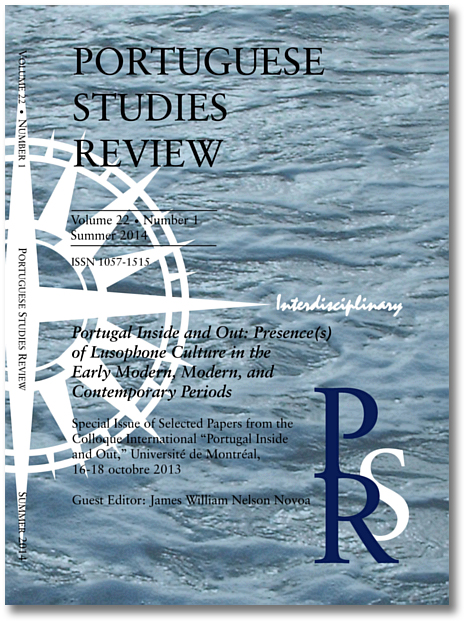 Portugal Inside and Out: Presence(s) of Lusophone Culture in the Early Modern, Modern, and Contemporary Periods (Selected Papers from the Colloque International "Portugal Inside and Out," Université de Montréal, 16-18 octobre 2013)
Guest Editor: James Nelson Novoa (Hebrew University of Jerusalem, Visiting Researcher)

Stefano Andretta
"Dell' Unione del Regno di Portogallo alla Corona di Castiglia (1585) de Girolamo Conestaggio, historien génois"

Nuno Miguel Proença
" « L'effet Lusiades » : voyage et fondation à la lumière de la pensée de l'évidence de Fernando Gil"

Maria da Graça Gomes de Pina
"Bárbara scrába dentro e fora da lusofonia: Camões e Tavares"

Marcelo da Rocha Lima Diego
"A máquina-teatro de Carlos Drummond de Andrade"
Paulo H. Duarte-Feitoza
"La belleza en la obra de Tarsila do Amaral"

Begoña Farré Torras
"Four Princes, One Monument, One Perfect King. The 15th-Century Pantheon of an Idealized Royal Family in the Monastery of Santa Maria da Vitória, Batalha, Portugal"

Ana Duarte Rodrigues
"Renaissance Cloisters in the Iberian Peninsula and Colonies: The Circulation of Meanings and Forms through Art Treatises, Descriptions, Drawings and Visual Memory"

David García Cueto
"Servicio regio y estrategia familiar: los marqueses de Castel Rodrigo y la importación del gusto romano en Lisboa y Madrid durante el siglo XVII"

Daniela Viggiani
"La collection de peintures de Diogo de Nápoles Noronha e Veiga"

Cristina Mongay Batlle, Gemma Avinyó Fontanet and Iván Rega Castro
"Los alumnos portugueses en la Real Academia de Bellas Artes de San Fernando desde su fundación hasta principios del siglo XIX: consideraciones biográficas y estadísticas"

Eliana Sousa Santos
"Plain Arts: Portugal and Beyond"

Sheyla S. Zandonai
"La présence portugaise à Macao : une culture d'accommodements"

Karl Heinz Arenz
"Pajés ouvindo confissão e celebrando missa: convergências simbólico-sociais nos aldeamentos jesuíticos da Amazônia portuguesa (séculos XVII e XVIII)"

Wilson Anthony Alano and Tereza Mara Franzoni
"Juliana e Dom Jorge no Sul do Brasil" Diálogos entre cultura popular e Teatro no século XXI "

Pedro Martins
"On Lusophony"